Newsvine – N.O. Streetcars Welcomed Back With Party
I think almost everyone in North America knows what "Katrina" was. A few of you know my sister and brother-in-law were living in New Orleans at the time (and that Mike rode out the storm at the somewhat infamous Charity Hospital in downtown – who can forget that? Certainly not Mike…).
I don't share the deep emotional connection to New Orleans that many people have, but I have a soft spot in my heart for the city, having visited a few times. It was always a thrill to see the excitement a ride on the streetcar brought out in my daughter. We made countless trips on the St Charles Avenue streetcar to Audubon Park (from my sister's apartment on St Charles – which I think was considered "uptown").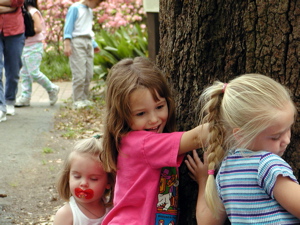 (Beth hugging a tree at an Earth Day celebration at the Audubon Park Zoo in New Orleans, 2003)
It's nice to see they're up and running again. A ride on the streetcar through the garden district, under the old trees hanging over St Charles, followed by a stroll through the park and surrounding neighborhoods, was my favorite part of every trip to New Orleans.
(Well, besides getting to visit my sister and her husband of course.)