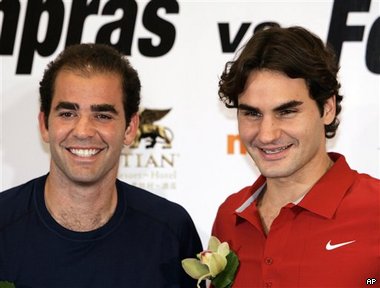 It's not often that I catch myself saying, "boy, I wish I saw that tennis match." I've had a couple of those moments this week. Every time I catch the result from the exhibition matches between Roger Federer and my boy, Pete Sampras, I feel a twinge of regret. I heard about the matches a little while back, and I cringed at the thought. Federer is crushing everyone he faces, and Pete's been retired for five years. The last thing I wanted to see is 'ole Pete get fed a steady diet of fuzzy yellow balls for two sets. Or worse, see Roger obviously holding back.
Instead, from what I've read, Pete hasn't lost much off his serve; and while he's definitely lost a step (or four), he still gets around the court o.k.
I expect it's one thing to play a few sets at a high level, than to push a 36 year old body through a season on the tour, so I don't expect Pete's about to un-retire (nor am I sure he should). But that's all the more reason why I wish I'd seen these exhibitions. How often do you get to see two great players from different eras (sort of) play each other so closely?
Newsvine – Sampras Stuns Federer in Exhibition:
Sampras never faced a break point and converted one of two against his opponent as he handed Federer a 7-6 (8), 6-4 defeat at the Venetian Macao arena, wrapping up a three-match Asian exhibition series between the two tennis greats.
Alright, maybe "stuns" is a bit of an exaggeration. It's not like 36 is THAT old (and I should know). Maybe "surprises" would be better fit.